Huntsville ranked #1 on The Best Places to Live in America's New Tech Hubs
AT A GLANCE
Silicon Valley doesn't have a monopoly on great tech jobs anymore—tech companies are opening in mid-sized cities across America.
These new tech hubs offer promising job opportunities, plus more affordable home prices.
Wondering where to begin a home search? Trulia's search data points the way to the neighborhoods locals love in these cities.
---
There's no shortage of good tech jobs in Silicon Valley and San Francisco, of course. But with the median home price topping $1 million, even highly paid tech workers can have trouble making ends meet. Fortunately, several mid-sized cities across the country are experiencing their own tech booms, with startups galore and plenty of job openings. And, according to the Bureau of Labor Statistics, this is just the beginning. The BLS predicts that over the next decade employment in tech will grow 13 percent, faster than the average for all other occupations.
So, where are these new tech hubs? Everywhere from Alabama to Colorado. Here's a look at four cities where job prospects are growing rapidly and where a tech salary (which averages $109,000 nationwide according to industry nonprofit CompTIA) will go a lot farther in the housing market.
As a home-buying headstart for people looking to relocate for a job, we dug into Trulia's data to find out which neighborhood or suburb in each of these tech hubs gets the most searches by locals—in other words, by the people who know the area best. If you're up for relocating, consider it a sweet spot for starting your home search.
Where to Work 
Since the early days of the space age in the 1950s and '60s, engineers have flocked to Huntsville, aka "Rocket City," to join the teams at NASA, McDonnell Douglas, and Boeing. These companies landed Department of Defense contracts and produced more and more spin-off companies, all requiring engineering and tech talent, says John Norris, chief economist at Oakworth Capital Bank in Birmingham, Alabama. More recently, Huntsville has attracted Amazon CEO Jeff Bezos' space venture, Blue Origin, which is investing $200 million to build its BE-4 rocket engine here, and Aerojet Rocketdyne, which is bringing 800 new jobs to town. It all adds up: ZipRecruiter data shows tech jobs in Huntsville up a whopping 309 percent in 2017 over 2016.
Where to Live: Madison
Part of what attracts companies to Huntsville, Alabama's second largest city, is its low cost of living. With a median home price of $150,000, housing in Huntsville leaves tech workers with plenty of disposable income. Even in Madison, a bedroom community west of Huntsville that's the most popular among locals searching for homes on Trulia, the median price for a house—$190,000—is still less than the nationwide median. The suburb, once covered in cotton and soybean fields, is now a hot housing market "with good schools and new shopping areas," says local agent Sid Pugh. "And local officials are pursuing a minor league baseball team and stadium." All this is enjoyed, says Pugh, by "a good mix of the old Madison residents and up-and-coming engineers who are new to the area."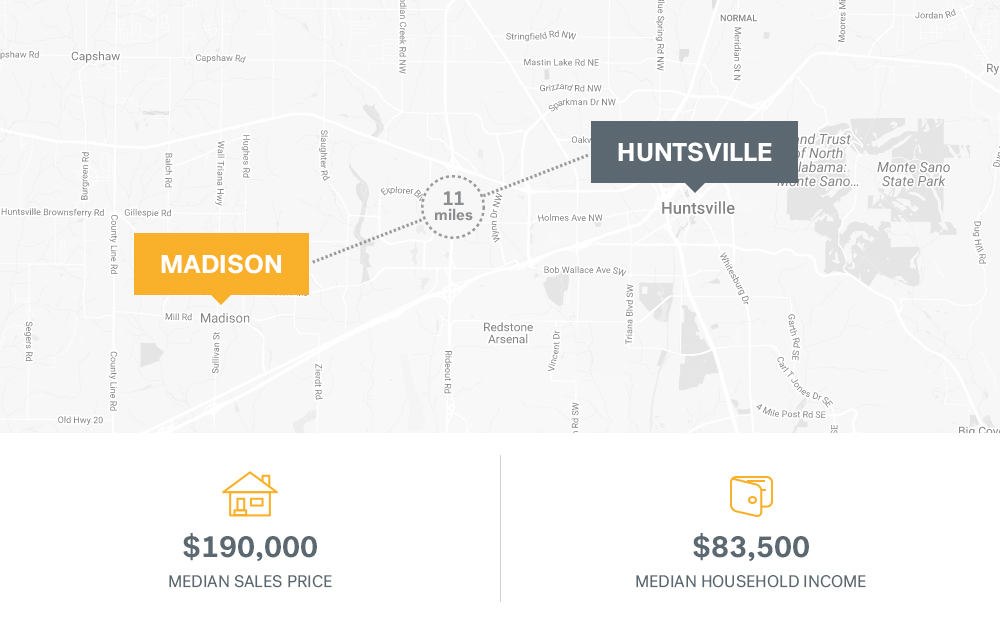 METHODOLOGY: Trulia identified the ZIP code in each of these metro areas that had the most home searches by locals of that metro area from December 2016 to December 2017.
Full article by Trulia

HERE

.